The Kali River in Dandeli is a popular destination for white water rafting, but in recent years illegal short rafting has become a problem.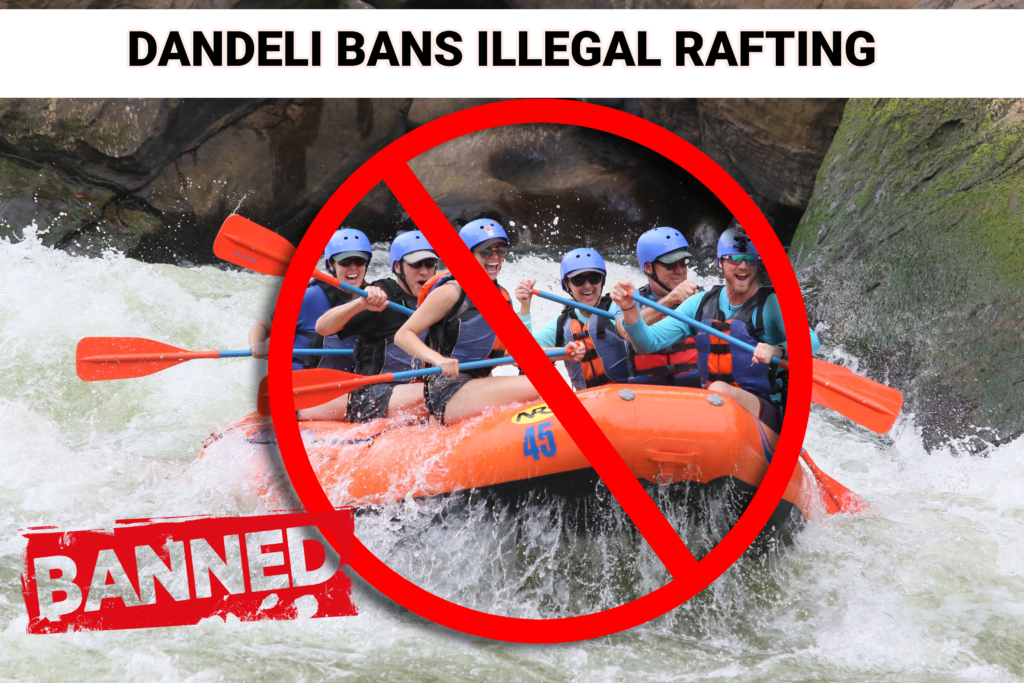 In an effort to crack down on this activity, all unauthorized short rafting trips are banned. The Government of Karnataka made this decision after illegal short rafting caused several incidents of people being injured. In one incident, a rafter suffered severe injuries after being thrown from their raft and hitting their head on a rock.
Rafting companies need to have a valid license to conduct rafting in Dandeli; they need to be professional, certified rafters and must follow the safety regulations set by the state government. The Deputy Commissioner said that cases would be booked against anyone flouting the rules. This ban on short rafting trips will help to keep tourists safe; lack of safety regulations can lead to accidents and injuries, as we have seen.
If you're planning to do river rafting in Dandeli, visit the authorized river rafting booking office at https://www.dandeli.com or call: 99024-74761 to reserve your spot. This will ensure that you can enjoy the river safely with professionally guided rafters.
The Possible Consequences of Illegal Short Rafting
Think twice before you illegally raft down the Kali river; you could risk more than just receiving a fine. There are many potential consequences of unauthorized short river rafting in Dandeli, and here are only some:
1. You could end up getting swept away by the current
2. You could drown or get lost
3. You may be subject to legal action if you break the law
4. Your experience could be frightening, unenjoyable, or disastrous
Unlicensed River Rafting Guides May:
1. Fail to properly assess the river conditions, leading to dangerous situations for rafters
2. Fail to properly instruct rafters on how to safely navigate the river, which can also lead to dangerous situations
3. Be unable to adequately control their raft, resulting in rafters being thrown from it or into dangerous areas of the river
4. Be unresponsive to the needs of their rafters, which may cause rafters to feel unsafe or uncomfortable
5. Fail to properly maintain their rafts, resulting in rafts breaking down or leaking while on the river
Enjoy A Safe & Fun Rafting Experience With Dandeli.com!
Dandeli.com offers legal, government-approved, long-distance, white-water river rafting in the pristine forests of Dandeli. Their professionally trained and experienced guides make sure you have a safe and thrilling experience on the river. This is a perfect destination for those looking for an adventure because of its Class III and Class IV rapids!
Imagine yourself hurtling through churning rapids, surrounded by stunning scenery; this is an experience you will never forget – so don't miss out! Raging rapids and wild adventures await you, just 6 hours away from Bangalore.
Call 99024-74761 to book your trip today and get ready to enjoy some of the best rafting in India.